107th Attack Wing Memorial
107th Attack Wing Memorial Expansion Project

The 107th Attack Wing currently has a Memorial Stone area and the 107th Attack Wing Memorial Expansion Project Committee would like to expand the area to create a Veteran's park like setting. The names that are etched in the current Memorial stone are 107th members who have passed while serving. This brick walkway fundraiser is a way to memorialize any former 107th member's or Veteran's service to our community and country.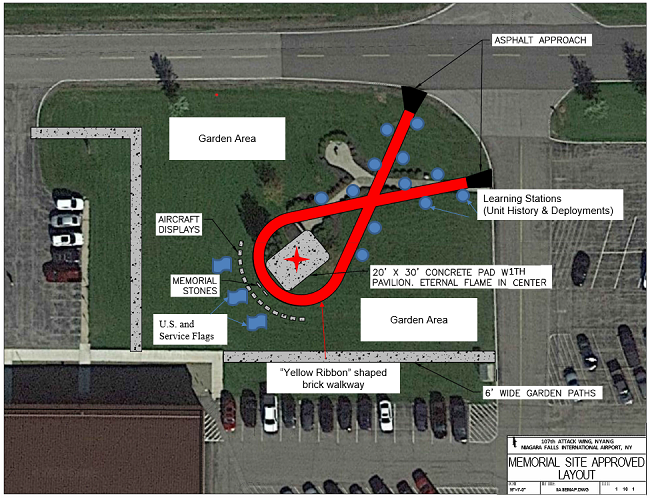 The Committee's vision for the expansion project is "To create a park-like setting where former members, Veterans, and family members may visit to reflect on the service and sacrifice of their loved ones. The brick walkway fundraiser will also raise funds to accomplish the Memorial Expansion Committee's objectives:
v Honor our fallen members with the addition of another one or two Memorial stones.
v Add a brick walkway to memorialize the service of any past 107th member or Service Veteran.
v Add benches, flags, possibly a gazebo, garden areas, flower beds, picnic benches, and model size 107th Aircraft to the Memorial grounds.
v Add an "Eternal Flame" to symbolize that the men and women of the National Guard are "Always Ready, Always On Mission"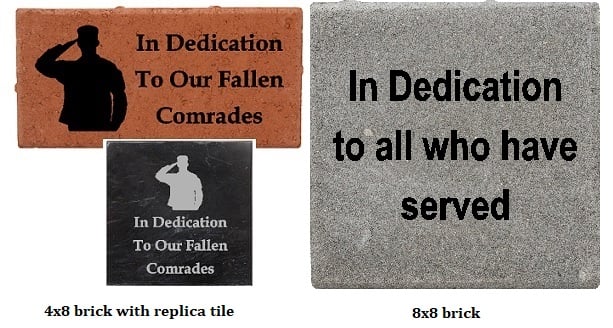 "All brick design
order requests are subject to review and final approval.
If there are
questions about your brick design order request, you will be contacted."

For more information, please contact:
Anthony Re and Raymond Fitpatrick