407th Brigade Support Battalion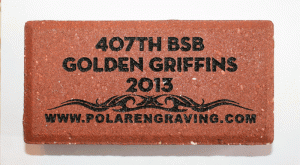 407th Alumni Association
"Continue the Legacy"
Leave your mark forever
Buy a Brick

The 407th Alumni Association is funding a Golden Griffin statue and walkway which will be the centerpiece of the entrance to the brand new Battalion Headquarters Building.
The new Griffin Statue will be made of bronze and marble which will distinctly identify the 407th Headquarters - both will be dedicated during All-American Week 2014.
Alumni Association members can purchase a personalized brick through the association for $100. Customized bricks with an additional airborne logo can be purchased for $150. Proceeds will be used to fund the statue and scholarships.
Bricks will be engraved with your rank, name, duty position / company and the dates you served in the 407th.
Help make our headquarters a special place by purchasing your brick today.
Gold members will receive a brick as part of their membership package.
Thank you for your support!