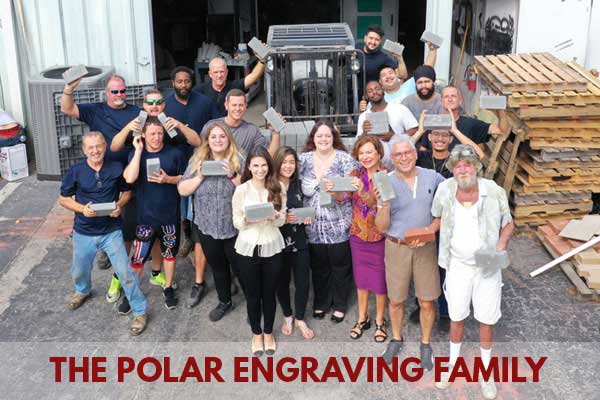 Located in Naples, FL, Polar Engraving is one of the oldest family-owned and operated brick engraving companies. Our company, which specializes in brick fundraisers and memorials, was established in 1998 and quickly became one of the top brick engraving companies in the country specializing in successful brick and tile fundraising campaigns. We are proud to announce we are Better Business Bureau accredited since 2015. We can engrave both concrete and clay bricks that can be used as commemorative bricks, memorial bricks, or donor recognition bricks to help you achieve a winning fundraiser. Furthermore, we can also engrave many types of tiles including quarry, porcelain, and granite for your different projects.
We have helped thousands of nonprofit organizations across the country. Not only are we a brick engraving company, but we are also members of the AFP (Association of Fundraising Professionals). Our top priority is helping our clients conduct successful fundraisers and memorials. We are constantly evolving and adding new tools to help you raise money and make your life easier.
Our hybrid technique of laser engraving & sandblasting allows us to engrave not only clay bricks but also more durable materials such as concrete bricks and granite tiles. Since concrete is a much harder and more resistant material, it is also more difficult to engrave. Other companies cannot engrave this harder material and if they can, they charge much more for it. Please note that we charge the same amount for both our concrete and clay bricks. We are also able to engrave complicated logos, clip art, and personal artwork.
We include a lifetime warranty on all of our engravings, and we have not had a single claim in over 24 years of business to replace an engraving project. Customer service and satisfaction are and always will be our #1 priority at Polar Engraving, and we look forward to helping your organization surpass its fundraising goals!
What makes us different from other brick engraving companies?
Lifetime warranty
No minimum quantities
No contract required
Quickest production time in the industry
Free brochure design when you use our Free Donor Website
We can engrave on your own bricks or tiles
Truly free shipping within Continental U.S. (No additional fees for lift gate, limited access, etc.)
You have the choice between concrete or clay bricks. We can engrave both for the same price, other companies charge more for concrete
Select from our extensive largest clip art library including over 200 animal breeds for only $6.00 each. No setup fees for logo
You can choose any font
Shipping confirmation and tracking
Free personalized engraved brick sample with your logo
Free Donor Website with an online ordering system
Fundraising Guide and PowerPoint Presentation to help kick off your fundraiser
 Lowest price including shipping; starting at $19.50 for tiles and bricks
Knowledgeable, fun, and caring staff to help you with any questions you might have. You always speak with a live person during business hours
Who can benefit from a brick or tile fundraising campaign?
Civic organizations, charitable institutions such as non-profit organizations, elementary schools, high schools, universities, hospitals, religious organizations, museums, zoos, aquariums, stadiums, libraries, recreation centers, rescue groups, social clubs, fraternities and sororities, veterans memorials, special causes, theaters, special events, cemeteries, cities, towns and government buildings. Just about any organization trying to raise funds using a proven fundraising concept can benefit from our services.