Accessible Housing Austin!
Accessible Housing Austin! is developing AHA! at Briarcliff, a three-story, 27-unit apartment complex that is accessible, affordable, and integrated housing for people with and without disabilities. Construction is underway and we hope to open by September of 2020.
Please consider showing your support for AHA! at Briarcliff by ordering a personalized brick! Bricks are available in 4x8 and 8x8 sizes, and they will be used to line the walkways at the Briarcliff development.
AHA! at Briarcliff will house between thirty and sixty individuals, all of whom make at or below 50% of the Area Median Income. The current median rent price for a two-bedroom apartment in Austin is $1,434. Rents at AHA! at Briarcliff are expected to range between $600 - $1,100. The building will be fully-accessible and serviced by two gurney-sized elevators, allowing Austinites with mobility impairments to live-in, and access, any unit in the complex.
Though the construction of the development is mostly funded, AHA! still needs your support! A personalized, clay brick will allow you to commemorate your donation to the AHA! at Briarcliff project.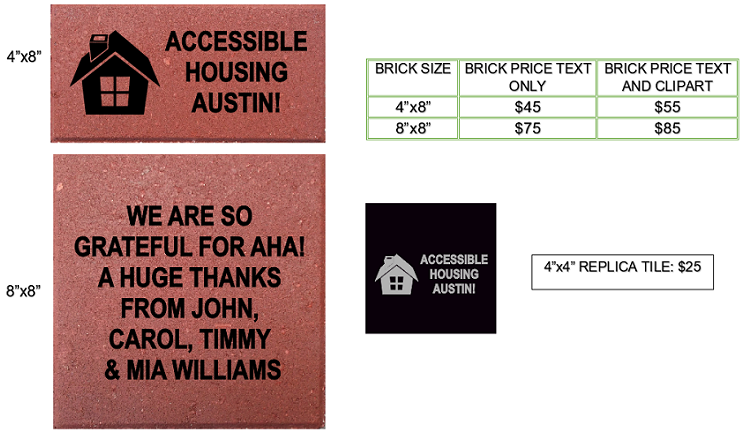 You may order by filling out the form on this website, or by emailing [email protected] for more information.