We welcome you to support Awesome Acres and secure your legacy by becoming an Awesome Acres Angel today. Purchase an engraved brick or granite tile and help us pave our way towards stronger food security.
A one of a kind Awesome Acres in Colorado
We want you to be part of the legacy as an Awesome Acres Angel! Awesome Acres is raising funds in 2022-23 to purchase farmland near the Colorado Springs Metro area to get our venture off to a great start. Bricks and tiles from this effort will be used to create an Awesome Acres Angel, Friends and Founders custom structure on the new Awesome Acres property. Through this brick fundraiser, we are reaching out to our community and all supportive individuals, groups and organizations to help us in our next stage.
Showing your support through brick engraving is a wonderful way to honor, commemorate, congratulate, or show your undying passion for a loved one, a life event, a sport, yourself or simply an unforgettable time in your life. Inscribing a brick for someone is a profound means by which to remember an individual who is greatly missed, to announce a birth, celebrate a wedding, an anniversary or send a birthday wish to someone special. Showing support for a business is great too. Be creative! It's your brick!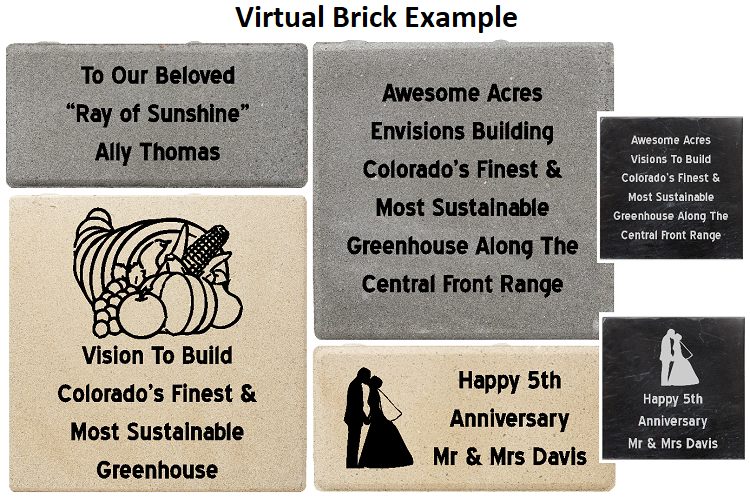 Any brick, array or otherwise, orders over $2,500 will receive a free replica tile.
Thank you for your love and support and joining the Awesome Acres family! Remember, each brick alone is just a brick, but hundreds of bricks side by side become a path to a more sustainable food environment in Colorado Springs.
Please note, Awesome Acres LLC is not a 501(c)(3) and thus donations placed as part of this
Brick fundraiser are NOT tax deductible donations.
Austin's Story
Austin has a love for quality food and bringing that passion to others. With over a decade in food service production and 8 years of personal growing experience he has had a large dream of creating a stronger food production to his local area. Over the years he has created many gardens and greenhouses. His motivation has been focused on food security, nutrient density and creating more food certainty for his own local community.
Austin has since established Awesome Acres. After an initial round of fundraising in 2020, we are now expanding the vision to build Colorado's finest and most sustainable greenhouse and destination venue which will produce the freshest, locally sourced produce available along the Central Colorado Front Range, and we need your help!