Babylon Beautification Society
The Babylon Beautification Society continues to endeavor in efforts to beautify Babylon Village and honor its history. Through the leadership of the Bayman Statue Steering Committee and in partnership with the Babylon Historical & Preservation Society, our great community, and many benefactors, we erected the Bayman Statue and dedicated it to the Village of Babylon on July 1, 2018. This statue pays homage to a once thriving clamming industry and to those who toiled on the Great South Bay for hundreds of years. With determination and in the harshest of conditions, these individuals earned their living with tongs, rakes and calloused hands.
We are very proud to sponsor the Bayman Statue. May it be an ever –present reminder of the work ethic, dedication and contribution of those who labored long and hard to support themselves and their families.
Order Your Own Personalized Brick
Be part of history and get your own personalized brick. These new bricks will be added to Bayman Park alongside the existing bricks. To order a brick, please compete the below order form.
Thank you for supporting our beautification efforts.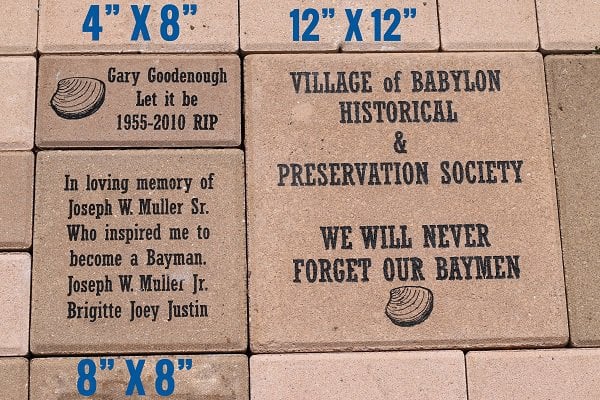 FOR ALL QUESTIONS REGARDING ORDERS PLEASE EMAIL