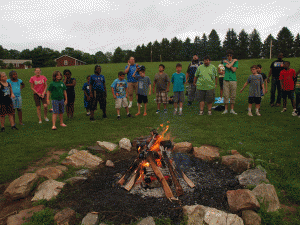 FAITH WALKING
Camp Lebanon Funding a Future Campaign

For many years Christian camp programs around the nation have been closed, sold or simply let go by the organizations that oversee their ministries.

The American Baptist Churches of New Jersey (ABCNJ) can no longer maintain their level of support without hurting the ability to minister to our ABC churches.
Therefore Baptist Camp Lebanon (BCL) must find new ways to supplement the summer camping ministry or face the reality that it, too, may disappear.
"Faith Walking" is a long-term campaign that will not only benefit the over-all ministry at Camp Lebanon but will add to its beauty and help solidify a better financial future.

Our first stage in this journey begins with a "TRIBUTE PATIO!"
This patio will be created with bricks purchased by staff, volunteers, friends and alumni of the camping and conferencing program of Camp Lebanon - from years gone by to those who are yet to come!
Imagine your group's name, your church's name, your name, your child's name or a loved one's name on one of these bricks! You will be able to choose from a wide assortment of logos or graphics to add to your brick to make it a little more special.
Please consider how you might join in this most important effort to keep the ministry of summer camping a viable ministry at your BCL!
All gifts are tax deductible.
PURCHASE YOUR BRICK NOW AND BE PART OF A LASTING LEGACY!
Below you will find the pricing:
| | | |
| --- | --- | --- |
| 4" x 8" Brick | Text Only | $ 100.00 |
| 4" x 8" Brick | Text with clipart | $ 125.00 |
| 8" x 8" Brick | Text Only | $ 250.00 |
| 8" x 8" Brick | Text with clipart | $ 300.00 |