Sheriff David M. Lucas visualized a dog park for Belmont County residents and visitors after utilizing them in other states when he traveled with his beloved Pomsky, Loki. He collaborated with the Belmont County Commissioners, who worked to identify a piece of county property that would accommodate such a need. The Road Home Animal Project joined the project as the non-profit partner, and the Belmont County Dog Park Project was born. The Belmont County Dog Park will be located off Route 331, west of St, Clairsville, Ohio between the Belmont County Health Department and Fox Shannon Park. The dog park will occupy approximately two acres of beautiful land between the back of the Health Department and Fox Shannon Park. There will be two sections, one for large/medium dogs and one for small dogs, enclosed in vinyl coated chain link fence with a top rail.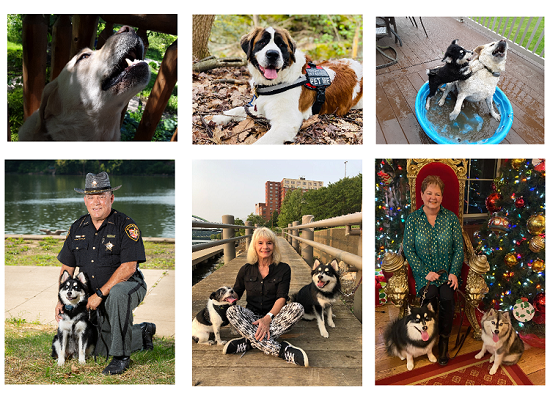 The project has been fortunate enough to obtain a couple of grants, but a project like this needs community support. If you want to memorialize or honor a family member or friend – 2 or 4 legged - engraved bricks are available for purchase and will form the entry way into the park. The park will be equipped with outdoor frost-free hydrants, doggie pools for a summer treat, and eventually basic agility equipment. There are enhancements that will be available to purchase in honor or in memory of friends and family: poly vinyl benches, mature trees, and pavilions in each section to name a few.
In addition to the socialization aspects for both dogs and owners, the Project partners hope to be able to offer basic obedience programs as well as advanced specialty training at the park in the future. Dog parks offer younger and more mature dog owners the chance to interact in a safe environment and exercise with their best canine friends. The dog park will also offer an additional amenity to Belmont County visitors that hopefully will increase tourism to the area.
The park's proximity to the Sheriff's Office allows road deputies and other employees to keep an eye on the park to ensure it is being safely used and to perform the opening and closing procedures for the park. The project partners continue to apply for grant and foundation funds, but it takes the community to build the park.
f you are interested in learning more about funding opportunities for the park or have questions about the project, please email [email protected]