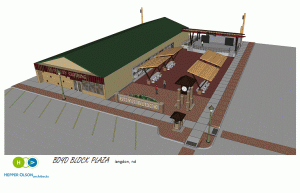 Langdon's downtown will have an exciting new addition by the 2013 - 125th celebration. Currently, a committee comprised of local community members is in the process of redeveloping the former Boyd Block lot as a community plaza.
The plaza, which will be used for numerous community events, will include shade canopies with picnic tables, restrooms, and a covered stage.
The Boyd Block project committee is taking donations for engraved bricks that will cover the floor of the plaza as a way to raise funds for the project.
Donations of $100 receive a 4x8 inch brick.
4x8 Bricks have a limit of 20 spaces per line (incl. characters and spaces) and 3 lines per brick.
Donations of $500 or more will receive a 12x12 inch brick and will have the option of including their company's logo on the brick.
If you would like to donate to this exciting project please you can do so on this page using Pay Pal. If you do not have a Pay Pal account, you also have the option of sending a check in the mail.
Checks should be made to: Cavalier County Job Development Authority or CCJDA
Checks can be mailed to: Cavalier County JDA
901 3rd St, STE 5
Langdon ND 58249
(Please note that CCJDA is a local government entity. Donations to local government are tax deductible as long as they are used for a public purpose, such as the Boyd Block Plaza)
If an individual or company would like to make a larger donation, please realize that larger donations will be recognized appropriately.
The Boyd Block plaza will fill an empty lot on the corner of Main Street and 8th Avenue. The lot is the former location of the Boyd Block building.
For a large portion of its life, Boyd Block housed the JcPenney Store.
In the 1990s, the building was subdivided and housed 6 businesses on the main floor including a floral Shop, nail salon, insurance agency, second hand clothing store, and others.
Labor Day weekend of 2004, the building was lost to a fire. Since that time, several proposed uses of the site came forward.
The idea that gained the most momentum and was heavily favored by the community was that of an outdoor plaza.
In the spring of 2012 the group that makes up the current Boyd Block Committee was formed, architectural drawings were obtained, and fundraising began.