The Brattleboro Retreat is pleased to announce the creation of a Reflection Garden, a peaceful outdoor setting where staff and guests can enjoy some private moments of reflection. The south-facing Garden is situated near the main entrance to the hospital. It has benches, multiple plantings, and soon-to-be-engraved brick pavers lining its pathways.
This space is being developed with charitable donations to meet the need for a quiet outdoor space where people can spend time honoring and reflecting on loved ones, and special people who are living or who have passed.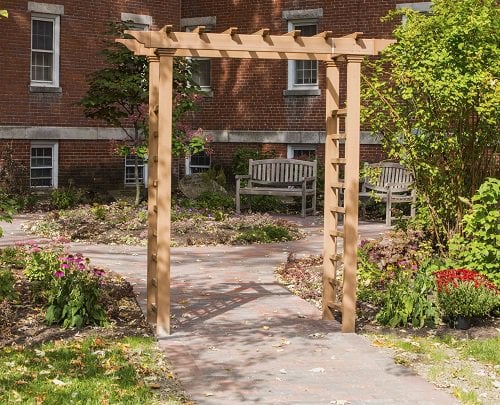 Reflection Garden Almost Completed !
Now you have the unique opportunity to contribute to the Reflection Garden by donating an engraved red brick paver for the walkway. You can personalize it with a short message or the names of loved ones. Standard sized bricks will include three lines of engraving, with up to 20 characters (including spaces) per line, for a donation of $100. Double-sized bricks (8" x 8") are also available at $150, and offer up to six lines of 20 characters per line for your message.
The choices for your message are unlimited, and could include:
· A loved one's name or family name
· A favorite quote or message
· A dedication to a supporter
· A note of admiration for a friend
· A thank you message note of gratitude for a co-worker or care-giver.
All messages will be reviewed and require approval prior to engraving.
Leave a lasting message that will be seen and appreciated by visitors to the Retreat's new Reflection Garden!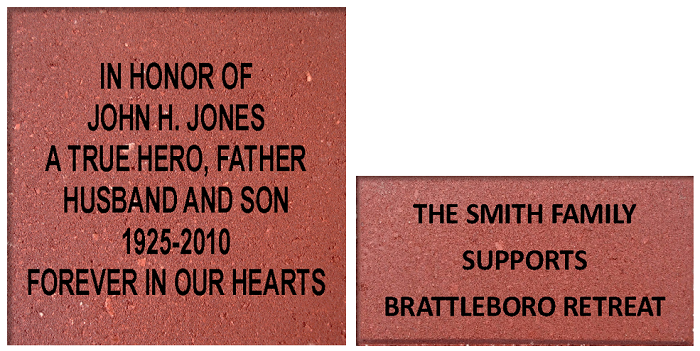 4''x 8'' Concrete Brick: $100.00
8''x 8'' Concrete Brick: $150.00
FOR QUESTIONS REGARDING ORDERS PLEASE CONTACT
ROBERT SZPILA AT [email protected]