The Brew City Bully Club is raising money for our Rescue Retreat! Its 2+ wooded acres, in Milwaukee County, with about $50,000 of fencing already in place! Unreal. This new property will allow BCBC to do more advocacy, owner support, outreach and rescue! The possibilities are endless and Milwaukee needs all of this so very badly. BCBC needs ownership of the property to realize its full potential. Please purchase a brick to get us one step closer to this important milestone.
We are selling bricks to help us pave the way to our new adventure! These engraved bricks are the highest quality and will last as a memorial to all that are involved! Purchase a brick in memory of a loved one, a beloved pet, commemorate a special occasion, celebrate a special person or pet or simply show your love and support for the Brew City Bully Club!
Mark your spot at the Rescue Retreat for all to see!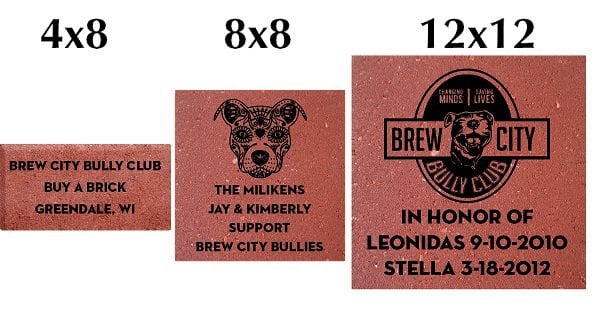 If you would like to have a 4" by 4" Replica Tile with the same inscription as your brick, you can purchase one for $25.00.
Thank you for your purchase and donation to the Brew City Bully Club!