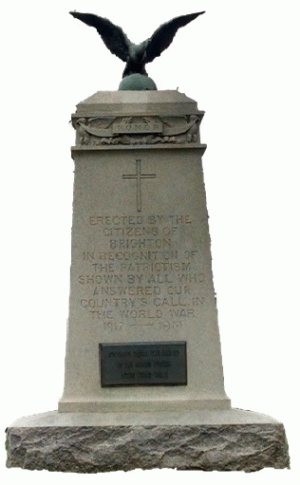 In 1921 a Civil War/World War I Monument was erected in Brighton, just north of St. Francis Church, by the people of Brighton who wished to honor those brave veterans who fought, or even sacrificed their lives, at this time in history, for our great country.
Currently, we are raising funds to build a similar monument to honor all those who have served and/or given their lives in World War II and following wars (Korean, Vietnam, Iraq, and Afghanistan). Our intentions are to build a similar monument representing World War II and a third monument representing the wars that followed. These monuments will be located next to the current monument, creating a monument park.
In order to raise funds for these monuments, personalized, engraved bricks will be sold, which will be installed at the monument site. Our goal is to have all funds collected as soon as possible, so that our brick order can be placed, the World War II Monument can be ordered, and we hope to dedicate the Monument on Memorial Day 2016.
Bricks can be ordered in three different sizes 4x8, 8x8 and 12x12. Bricks can honor a veteran, or can be in memory of a family member, or can also be donated in the name of your own family. (It is not necessary to be a Brighton resident to order a brick, so please, spread the word.)
Any donation to support this effort will be greatly appreciated.