My name is Spencer Huffman and I am a Boy Scout with Troop 33. I am in the process of achieving the rank of Eagle. To become an Eagle rank, I need to demonstrate leadership through designing and conducting a service project that will benefit and enhance the community that it is placed in.
This Eagle project will encompass creating a crushed shell pathway that will wind through and in front of each station of the cross at Our Lady of the Rosary Catholic Church. The path will be 3 feet wide, 3 inches in depth and will run a total of 1200 feet forming an oval shape.
The station of crosses path is currently uneven dirt and riddled with roots that may cause visitors to trip and lose their footing. My project will benefit those who walk the path by creating a safer, smoother, and level walkway that will enhance the already natural beauty of the area.


I will utilize the pavers to enhance the path. The pavers, which can be purchased and personalized by parishioners, friends, and families within our community, will offer a participant a way to offer remembrance, celebration, or recognition to loved ones. The number of available pavers is limited.


In order for me to complete this project, I ask for your prayers, support, and donations. Please consider giving what you can to make this project possible. All help is deeply appreciated.

Thank you in advance for your prayers and support.
Please give what you can!
- Spencer Huffman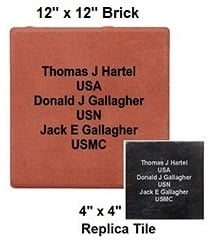 For more information or questions please contact: Edwin Vega at [email protected]