Dear Friends,
I am creating a Veteran's Memorial Garden around the flagpole at my former elementary school Holy Family. The project will be dedicated to and honor the service to our country of past and present Veteran's that have served our country. The garden will also improve the landscaping currently surrounding the flagpole and bring attention to it that it deserves.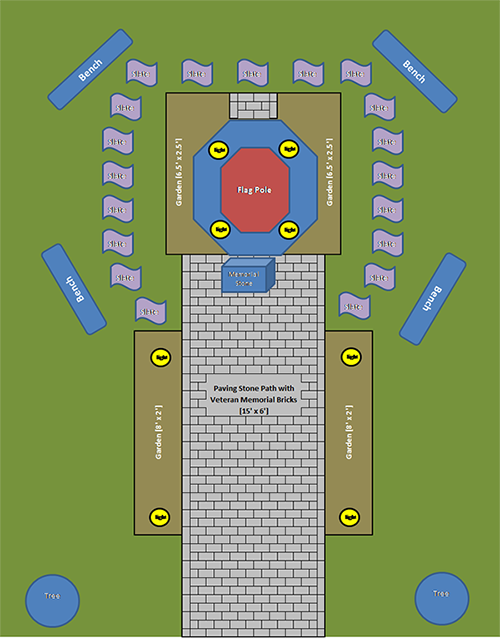 As you can see by the attached diagram, the garden would have a brick paver "Walkway of Heroes" from the parking lot up to the base of the flagpole. Memorial pavers can be dedicated to a Veteran with 3 lines of information on the 4" x 8" paver for a $50 donation. You can also purchase a replica tile keepsake for a $20 donation if you would like to have as a remembrance. One of the important parts of my project is that lights will be installed so that the flag is properly illuminated so it can be flown at night. There will be small gardens on each side of the walkway and around the base of the flagpole. I plan to reseed the grass around the flagpole lawn adding new top soil and peat moss. A slate path will also be laid down on the lawn in a circle around the flagpole and garden. The Memorial Garden will also include 4 wooden benches that will be placed around the slate path. The final part of the project will be a stone dedicated to the Veterans of Holy Family Parish and School, "DEDICATED TO HONOR THE PAST AND PRESENT VETERANS FROM HOLY FAMILY PARISH AND SCHOOL WHO HAVE SACRIFICED TO SERVE OUR COUNTRY IN TIMES OF CONFLICT AND PEACE TO PROTECT OUR FREEDOM."
Thank you for considering donating a memorial paver for a veteran(s) that have touched your life and you wish to honor.