With honor and pride, Troop 721 proudly introduces our
"Raise The Roof Campaign"
The Boy Scouts of America is one of the nation's largest and most prominent values-based youth development organizations; providing programs for young people that builds character, trains them in the responsibilities of citizenship, and develops personal fitness.
For more than 100 years, Boy Scouts of America has helped build future leaders by combining educational activities and lifelong values with fun. Troop 721 have extended this program to local boys for over 40 years and to a large extent, to the Scout Hut, located in the heart of Umatilla, Florida.
The Scout Hut started out as military barracks during WW2 at The Leesburg Army Airfield (now the Leesburg International Airport in Leesburg, FL). The Scout Hut was also used by the Army Air Force School of Applied Tactics at Orlando Army Air Base. The SCOUT HUT was then moved to Umatilla shortly after the base was closed and then years later to its current home on Smith St. It has been used by Boy Scouts, Girls Scouts, and other youth organizations over the years.
For some time, it had been unused and had fallen into disrepair. BSA Troop 721 and a group of concerned citizens have been trying to bring it back to its former glory. The City of Umatilla has graciously let Troop 721 take the SCOUT HUT back and renovate it for Scout meetings and events, so that the youth of Umatilla has a place to meet with their chosen youth programs once again.
With continuing renovations, TROOP 721 are focusing on broadening the local program and exposing the Troop to more adventures and new parts of the country. The Scout Hut has been a gathering point and will continue to be so for generations of Scouts to come.
Our goal is to raise $60,000 for the purchase of materials and equipment to make this project a success.
We would like to accomplish this goal by offering sponsored bricks that anyone can purchase. These bricks will be laid in the walk way to the Hut and the landscaping around the flag pole. We would like to keep it going indefinitely, so that new additions to our scouting family can purchase a brick if they want and have it added to the walk way or the landscaping. All proceeds go directly to the renovation of the Scout Hut. Any proceeds received after initial purchase of these items will go to the continual maintenance of the system.
Thank you for your support!
Bricks can be designed to allow donors to:
Honor your family name:
as supporters of BSA Troop 721
as supporters of scouting
as members of the Military
as members of the church or Local Organization
Celebrate a precious memory:
your child's preschool, high school or college graduation
the birth or adoption of a child
an anniversary
an important birthday
Remember a loved one:
a lost family member, friend or church member
a lost military member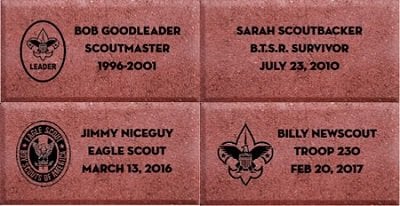 Our Porcelain Wood Tiles will be placed in the Scout Hut on a Memorial Wall

Special Note – We can offer you a "Replica Tile" for $25.00. A replica tile is a copy of the tile with the same text and clip art or logo engraved on a 4" x 4" tile.