Burlingame Parks and Recreation Foundation
The Burlingame Parks and Recreation Foundation is committed to ensuring the community remains a vital part of our parks and recreation programs. Fundraising guarantees that you, our children and all future generations will continue to enjoy our parks, trails, open space and recreational programs that enhance the quality of life in our community.
The Foundation is offering a unique opportunity to be a lasting part of the community by purchasing a brick to be installed at either Ray Park or Paloma Park. 100 percent of all proceeds from brick sales goes into funding youth scholarships and improvements to parks throughout Burlingame. Fundraising has allowed us to install chalkboards, reusable water bottle filling stations, benches, dog agility equipment, chess boards, a bike repair station, and many more amenities.
Our efforts and progress are a direct reflection of your generosity. And our success in promoting healthy lifestyles in Burlingame is all due to community support.

A personalized engraved brick is the perfect way to honor a special teacher, pet, or loved one. Or perhaps you want to celebrate the years of play you and your children have had at our parks. And again, your donations will continue to be put back into our parks and recreation programs for years to come.
PLAY WELL! LIVE WELL!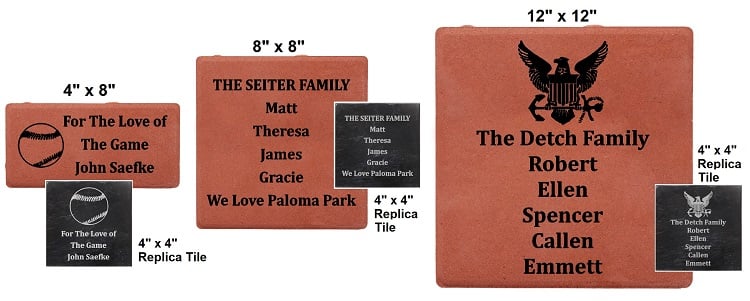 **In the comment section please indicate if you would like your brick to be placed at Ray Park or Paloma Park.**
Questions? Please email Dean D Peterson, [email protected]