Celebrating 20 Years! We connect. We engage students. We build character. We innovate. WE ARE CCDS.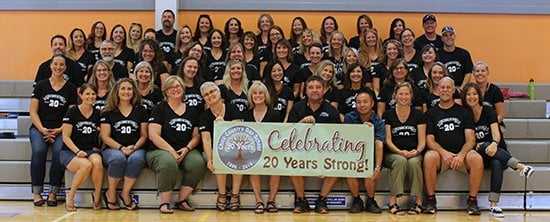 The mission of Chico Country Day Charter School is to provide a safe, joyful community where all learners are inspired to achieve their personal best.
At CCDS, we have created a learning environment where children become literate, cultured, life-long learners who strive for academic excellence. Through a united school, parent and community effort, CCDS emphasizes social consciousness and responsibility to a democratic society, self-confidence and compassion, and appreciation and respect for the natural world.
We are excited and proud to say that this year marks our 20th year as a school, as a positive and innovative influence in our community. We are so very excited to announce a very special fundraising opportunity to kick off the start of our 20th year celebration! We have partnered with Polar Engraving company to help us celebrate 20 years of strength with a buy a brick campaign! These beautifully crafted, laser engraved bricks will be an ongoing way to celebrate your family's time on campus, the graduation of your child, our staff and our wonderful 20 years of alumni. This will be an ongoing campaign that will not only add beauty to our campus, but will also serve as a visual history of our school, our families and those that have come before us to help build our school to the amazing community that we are privileged to experience today.