Davis Park Tennis Court Resurfacing Fundraiser
Davis Park Tennis Court Project
"One Brick At a Time"
Resurfacing Fundraiser
Davis Park Tennis Courts are in need of resurfacing. The tennis courts were last resurfaced about 14 years ago. The courts have worn areas, cracks, unstable net posts and overall are un-safe and no fun to play.

The project cost to completely refurbish the courts is estimated at $150,000. But the great part is that the City of Belmont has agreed that if we raise $50,000, they will partner with us to complete this project. Public-private partnerships like these have made huge differences in the amenities Belmont has to offer.
That's where you come in!
We are asking our community businesses and citizens to become a permanent part of the Davis Park Tennis Court Complex.
We are happy to announce the "ONE BRICK AT A TIME"
Davis Park Tennis Fundraising Campaign.
So what's in it for you:
•
For as little as $100 you can contribute to the cause
•
You will have a custom engraved paver at the courts
•
You will support the community ~ who supports you
•
All gifts are tax-deductable
Example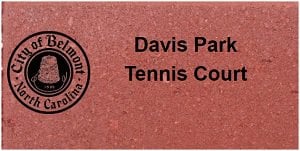 Custom logo's are for businesses only