Elba Baseball and Softball Association
Show your ELBA PRIDE by purchasing your own personalized engraved brick. The bricks will help build our new backstops on each one of our four fields. Your brick will be placed in the backstop wall on the spectator side for everyone to see for decades to come.
PERSONAL bricks are 4" x 8" and can include clip art (if you choose). What a wonderful way to contribute to Elba and leave your legacy.
4" x 8" PERSONAL BRICK
$70.00 with clip art
BUSINESSES will receive an 8" x 8" brick with your logo (if you choose) engraved in the brick to advertise to hundreds of baseball/softball families/fans for years to come. (also tax deductible)
8" X 8" BUSINESS BRICK
$110.00 without logo
$120.00 with logo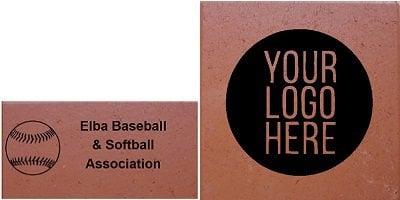 You can donate a brick for your family, your child, or in memory of a loved one.
BE CREATIVE - IT'S YOUR BRICK!! ☺
THANK YOU FOR YOUR SUPPORT
Elba Baseball & Softball Association