Evangelical Lutheran Church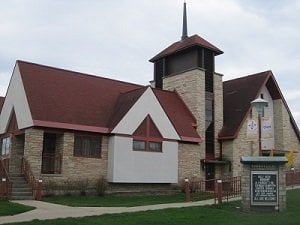 Evangelical Lutheran Church of Black River Falls, Wisconsin will celebrate its 150th anniversary of congregational ministry, August 10-12, 2018, with three days of worship, a hymn festival, a tentative concert by Them Coulee Boys, mission projects, the planned dedication of a commissioned art piece, food and festivities, along with visits from Synod Bishop Rev. Rick Hoyme, and international guests from the Evangelical Lutheran Church of Malawi.
To support the excitement and the planned activities friends and members of Evangelical Lutheran Church are invited to purchase a personalized BRICK to be placed within a 'Prayer Patio' that will be located on the church property.