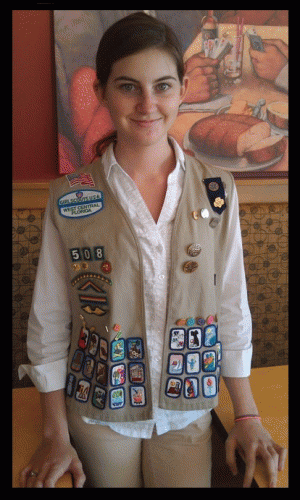 Kaitlyn A. is a Junior in High School and is currently working on her Girl Scout Gold Award, the highest award in Girl Scouting.
Kaitlyn has been a Girl Scout since she entered Kindergarten.
She earned her Girl Scout Bronze Award in 2008.
In 2010 she was awarded her Girl Scout Silver award and has now been inspired to work on her Gold Award within the Project Corregidor Grief & Peer Mentoring Program conducted at My Warrior's Place. Kaitlyn chose this project because her Grandfather is a Veteran who served 25 years in the Air Force during Vietnam, Operation Just Cause and Operation Desert Storm.
Kaitlyn realizes that there is very little available in support programs for our Military Service Members who have returned deployments, especially if they have endured the loss of a comrade-in-arms.
She wanted to do more than just saying "thank you" to these brave men and women and feels that this fire pit is a way to show her appreciation for those who have risked their lives so that we can live in the land of free. Kaitlyn is also considering joining the Air Force.
| | | |
| --- | --- | --- |
| 4" x 8" Brick | Text Only | $50.00 |
| 4" x 8" Brick | Text with Clip Art | $60.00 |
| 8" x 8" Brick | Text Only | $75.00 |
| 8" x 8" Brick | Text with Clip Art | $85.00 |