Fremont County School District #24
Buy a Paver & Leave a Legacy
Shoshoni Schools is pleased to announce they are now taking orders for personalized engraved pavers. The pavers will be permanently placed at the front of the school at the base of the Shoshoni Wrangler Bronze Sculpture as room allows and additional locations to be determined. Engraved pavers offer a unique and lasting opportunity for individuals, families, or businesses to leave their mark on Shoshoni Schools.
In 2016, along with donations from Groathouse Construction and Plan One Architects, the district purchased a Bronze Sculpture by local Artist Chris Navarro. A fundraiser was initiated to purchase the sculpture and to allow individuals an opportunity to buy personalized engraved pavers. At the end of the fundraiser, we had many individuals contact us who missed the opportunity; therefore, we have decided to open up an opportunity for folks to purchase them again.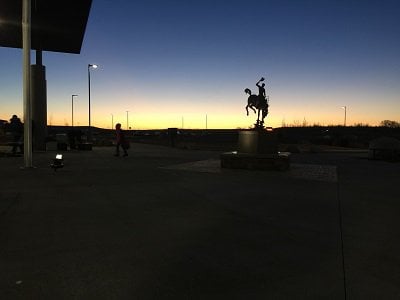 Pavers are a great way to honor a student, a Shoshoni alumni, your local business or in memory of a friend or family member. Proceeds will be utilized for enhancement projects at the new school. Donor bricks must be purchased by March 31, 2018.
Example