FRIENDS OF THE NEVADA SOUTHERN RAILWAY, INC.
MISSION STATEMENT
Friends of the Nevada Southern Railway, Inc. support the Nevada State Railroad Museum at Boulder City, NV through staffing, docent presentations, maintenance of and operation of railroad equipment and restoration of historic railroad equipment, all to the education and benefit of the public and Museum visitors
Buy a Brick Program
Our "Buy A Brick" program allows you to demonstrate your support of the Nevada State Railroad Museum in a permanent, sustainable memorial. Bricks will be placed is a heavily trafficked public area at the Museum.
- Remember a loved one:
~ a lost family member, or friend,
~ a lost military member
~ a lost pet
- Celebrate a precious memory:
~your child's first train ride
~the birth of a child
~an anniversary
~an important birthday
- Honor your family name
~as members of the "Friends" group
~as supporters of railroading, model railroading
All bricks 4" x 8" $100 per brick.
Three lines of text—up to 20 characters
per line. No graphics.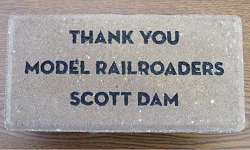 "Text is subject to final approval of Nevada State Railroad Museum."
Final placement of each brick is at the discretion of Nevada State Railroad Museum.
Please allow up to sixty days from ordering for final placement of your brick.
Initial bricks will be placed at the entrance to the train platform.
Online: www.nevadasouthern.com
Questions? Email FNSR@rrchuck.com