General Squier Playground Fund
My name is Shane VandenBerghe. I am 16 years old and a sophomore at Oxford High School, where I am a member of the marching band and the track team. I have also been a member of the Lapeer County 4-H for 7 years showing in the horse, swine, and indoor project areas. Outside of school and 4-H; I have been very actively involved in Boy Scouts for 6 years. I am currently a Life Scout with Troop 130 in Dryden, Michigan. My Eagle Scout Service Project is to benefit General Squier Park, the community of Dryden, and the surrounding area.
As part of my project my team will remove the current playground equipment; which is outdated, and not up to code. I plan on installing at a minimum of a new border, swing set, and new footing. If additional funds are raised, I would like to install two benches, a play structure with slides, and other playground equipment. The total cost for the full project is $18,500. My fellow scouts, adult leaders from my troop, friends, and family members will assist me in completing this project by volunteering their time and expertise.
I am hoping to start my project in the summer of 2020.
Any donation is greatly appreciated.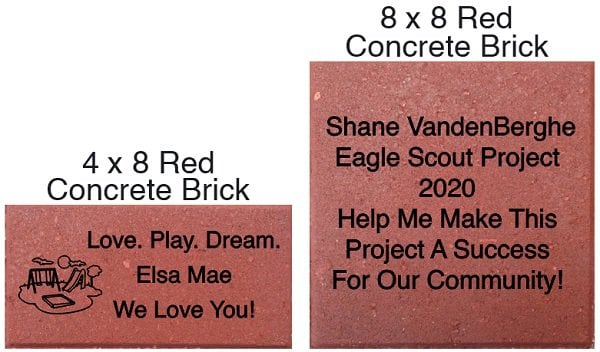 Business Bricks are available for $250.00.
Place your business logo on an 8 x 8 today!
4 x 4 Black Granite Replica Tile $25.00.
This is an exact replica of what is being engraved on your Brick.
If you have any questions or concerns about your order,
please contact:
Shane VandenBerghe at [email protected]
Or Contact Sarah VandenBerghe at 810-706-0330