The Geyser Community Club invites you to remember loved ones, honor friends and family, or simply show community support by purchasing a commemorative tile to be displayed at the Geyser Community Hall. This project, started in 2015 as a renovation fundraiser, will continue to be open as a permanent, sustainable memorial project. We offer 6X6 ceramic tiles for $150, and 12X12 ceramic tiles for $250. You may add a logo to either size for an additional $25.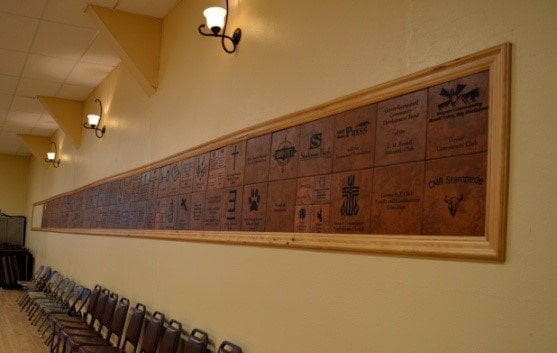 Here are some ideas for buying tiles:

Buy a family tile
Buy a ranch tile with your brand
Buy a business tile with your logo
Honor a loved one with a memorial tile
Buy an alumni tile with your graduating class
Show your organization or club's support with a tile

Orders can be placed through the mail with check payment by filling out the attached order form and mailing it to:
Geyser Community Club
PO Box 3
Geyser, MT 59447
Make checks to: Geyser Community Club
We will be happy to assist you in designing and ordering your tile. If you have any questions or need help, please call club President Misty Annala at 406-735-4341.

The History…..
The original Geyser Community Hall was built by Finnish community members as a place to have dances and community gatherings. It was a small building located in town. Later, the group purchased an old three story hotel that was in bad repair. They removed the bottom two floors, and lowered the top floor onto a foundation, creating the Geyser Community Hall that we see today. The hall was given to the county during the depression. It was overseen by a small group of officers and again, fell into disrepair. Sometime during the 70's a group of community members decided to use the hall as a place to have New Year's Eve Dances, and performed updates on the building, including paneling and wallpaper. The building served the community for many years, until a major hail storm damaged the roof, and caused significant water damage inside. The roof was repaired, the walls and lighting were updated, the floor was refinished, and new windows were installed. In 2015, the Geyser Community Club decided to repair a major problem with the building's foundation, by removing and replacing the North and East sides of the foundation. They also installed new tin on the sides of the building.
The Future….
The Geyser Community Hall stands as one of the largest and most beautiful halls in Central Montana. It serves as a gathering place for Weddings, Dances, Funerals, Receptions, Senior Citizen events, BBQ's, Reunions, Church Services, Fundraisers, and Parties. Community members have generously supported and cared for this grand building by donating money and countless hours to its upkeep. Our hope is that this hall will continue to be a gathering place for the Geyser Community well into the future.