Fellowman of Groove Phi Groove Social Fellowship, Inc. the International Office is pleased to present to our individual members the opportunity to purchase engraved bricks that will be displayed on the interior walls of our International Headquarters. The cost of each brick is $250. The details for ordering and designing your individual brick are enclosed in this Brick Campaign Website. The funds collected from this campaign will be used to cover the cost of renovating the office space, purchasing furniture and office equipment so that we will have a fully functioning office headquarters. In addition, funds collected will also cover the cost of administrative expenses to run our international office and to provide membership services. I will send out the interior design plans so that everyone will be able to proudly see what we are going to accomplish.
Each individual Fellowman's off-white brick will be engraved with our shield and three lines of text limited to fifteen characters per line. For an additional cost of $20.00 you can purchase your very own 4" x 4" replica tile of your engraved brick.
The Executive Board is going to launch a separate plaque campaign for our Graduate and Undergraduate Chapters as well as for our Founders. The plaques will be prominently displayed on the interior wall of our headquarters.
We look forward to hearing from you as we work to finalize this project. Please contact your Executive Board Representative or Regional Director or me if you have any questions on the Chapter Plaque Campaign.
Peace to all the Brothers,
Fellowman Dennis Thomas
International President
Groove Phi Groove Social Fellowship, Inc.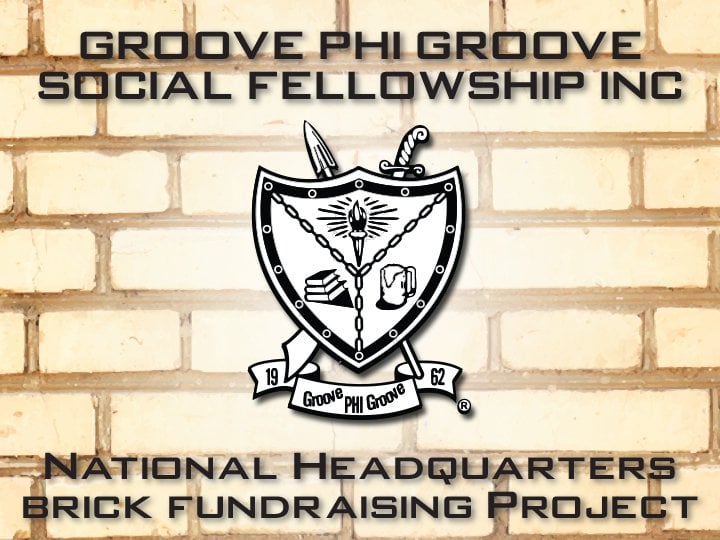 4" x 4" Replica Tile 4"x 8" Brick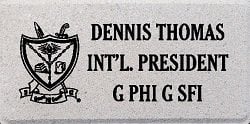 We are offering custom engraved beige bricks in 2 sizes: 8″x 8″ x 1/2", 12″ x 12″x 1/2" for our Chapters and Special Individual Donors that want to support the headquarters renovation project. The engraved beige brick will all be displayed prominently together on a designated wall of our International Headquarters. You can have up to 6 lines of text on an 8" x 8" brick and up to 8 lines on a 12" x 12" brick. To order follow the instructions shown below.
Members of the Swing Phi Swing Social Fellowships, inc.®
you have the opportunity to purchase bricks with your organization's shield on it to be displayed on the walls of the Groove International Headquarters. The cost is the same $250 (4 X 8), $500 (8 x 8) and $1,000 (12 X 12). You can also purchase a $20 replica of you brick.
FOR ALL QUESTIONS OR HELP WITH ORDERING PLEASE CONTACT DENNIS THOMAS
Email: groovebricks@gphig.org
PLEASE COMPLETE YOUR INFORMATION BELOW AND BE SURE TO SELECT YES FOR CLIP ART. YOU WILL BE ABLE TO CUSTOMIZE YOUR BRICK TEXT ON THE FOLLOWING SCREEN AFTER CLICKING CONTINUE.