SGT David Isaiah LaDart Memorial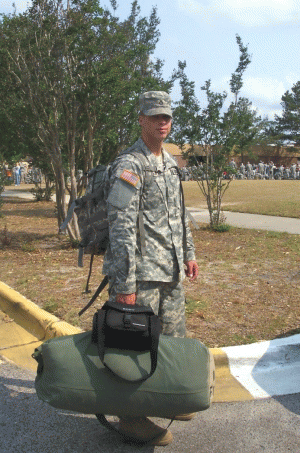 These are the stories of three Heroes that have left a legacy behind.
If you would like to know their stories with pictures, please click HERE.
Army SGT David I LaDart, 25 yrs. of age, served for the Army 6/ 2005-6/2012. He served two executive terms back to back in the green zone Baghdad, Iraq, with Special Services Permits.
He traveled the IED raided roads from Al Kut to downtown Baghdad, Iraq.
He was my son, my pride and joy, my baby boy.
David joined right after he got out of High School.
David was a fun, loving, bear hugging son, brother, grandson, husband, father, nephew, uncle, cousin, stepson, stepbrother, and friend. He was a joy and a laugh to be around. We can rest assure his heart was saved by the blood of Jesus Christ our Lord and Savior. Army SGT David I LaDart, passed June 4, 2012 due to circumstances of PTSD.
Army SSG Justin Adams, last post served was July 21, 2012, Chicago IL.
He served in Iraq for 3 tours. He was awarded this banner due to his service in Iraq, his injuries he endured while Iraq and all the while, keeping his pearly whites smiling, while fighting cancer and helping others.
Justin was full of life, always thinking of others before himself and stayed positive while fighting cancer. His Mom, Melanie Adams, never seen someone fight so hard to live. His family will live on, to lift him up and keep his spirit alive through them.
Army SPC. Robert Joseph Allen, 27. Robert passed on Aug. 2, 2012.
My son Rob was and is my pride and joy. According to his recruiter, he worked harder than any other recruit he's ever had.
He was a loving hands on father of two beautiful sons. Stationed at Joint Base
Lewis-McChord in WA. He served in the 9th Inf. 4th Stryker Brigade (4th SBCT) and returned with the last combat troops to leave Iraq.
He also worked in communications in HHC.
Rob loved cars and helped to start a car club in Olympia-Lace WA.
He was a fun, funny guy and had a smile that lit up the room.
Robbie comes from a military family and we are so very proud of him.
Rob passed due to circumstances of PTSD.