Holy Spirit Catholic Church
Celebrate the 50th Anniversary of Holy Spirit with a legacy that will be enjoyed for the next 50 years!
In 1972, a group of faithful Catholics took their vision to Bishop Thomas Tschoepe, asking for a local parish that would serve southwest Dallas County. The mission church that was established under the direction of St. Elizabeth of Hungary roughly doubled in size in its first two years, from just under 200 families to more than 400, and was granted the status of parish on June 16, 1974. Holy Spirit now has over 4000 registered families, serving parishioners in a tri-county area.
Your commemorative paver will mark your place in the history of our beloved church community and can be used to honor special events such as weddings, baptisms, and graduations, or to memorialize loved ones no longer with us. Bricks will be installed next to existing pavers leading into the north side of the narthex, and the area will be further beautified with new landscaping. This fundraiser will support activities associated with our 50th Anniversary celebration, and any additional funds will be directed toward the ongoing capital campaign to cover much needed repairs and upgrades to our aging facility.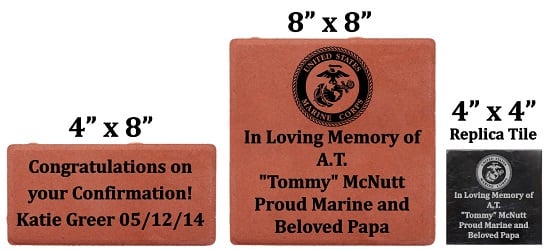 For any questions, please contact; [email protected]