Jewish Community Center of Harrison

Help commemorate this very important milestone, and leave a lasting imprint on our religious home.
We are pleased to announce a new project to install DEDICATED COMMEMORATIVE BRICKS that will be set into the walkway as you enter the JCCH in the back of the building. Whether you are at the JCCH for a holiday, services, school, programs, meeting friends or just to contemplate, your personalized bricks will be there to greet you as you enter.
This project is designed to offer each of us – congregants and community – a unique opportunity to leave a lasting impression, as well as have a positive impact on the financial well-being of our synagogue at this special time.
All past and present congregation or community members are invited to participate.
*Honor a Founding Member of the JCCH
*Highlight your children or family member
*Recognize a graduation, confirmation or Bar/ Bat Mitzvah
*Celebrate a wedding or special occasion
*Remember a loved one
We have three different brick pavers to choose from: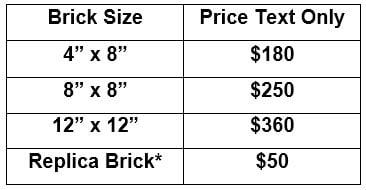 All bricks are either dark or light grey with Goudy Old Style Font.
(Please note that Hebrew and clipart or logo can be used but full brick image must be submitted as a PDF or JPEG)
*A Replica Brick is an exact copy of the brick you have ordered that you can use as a keepsake and can only be purchased in conjunction with an order, above.
IF YOU WOULD LIKE YOUR BRICKS TO BE INSTALLED FOR THIS YEAR'S HIGH HOLIDAYS, YOU MUST PLACE YOUR ORDER NO LATER THAN FRIDAY, JUNE 30TH.
This will be an ongoing project and the site will remain open indefinitely for future mitzvahs!
We hope additional bricks will be dedicated in the future.
Your support is greatly appreciated and will be a lasting tribute to our past 60 years and the years ahead!