Animal Care Shelter for Kent County
Building progress continues for The Animal Care Shelter for Kent County's new facility! When we broke ground in September 2021, we were blown away by the excitement and the support for this much-needed building. Since then, we have made tremendous headway, and are on track for a Grand Opening this Fall!
Now, we invite the community to help us pave the way to a better shelter for our animals. We are offering a permanent legacy opportunity for your friends and family to visit for years to come!
These laser-engraved bricks are a wonderful way to honor and celebrate a loved one, a beloved pet, commemorate a special occasion or simply show your love and support for the animals of Kent County!
These bricks will be placed around the shelter's flagpole to create a patio, giving future adopters, shelter alumni and friends of the four-legged a space to gather and bond over their love of the animals.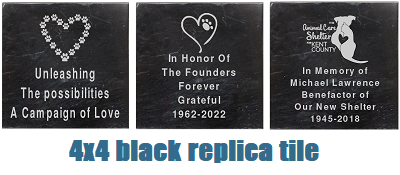 There are three sizes available. After adding your text, you may choose an image from the Clip Art Collection below or upload an image of your own (ie. logo of your business, club, organization, etc) at no additional cost. You may also purchase a 4"x4" replica tile of your brick as a special reminder of your support!
Thank you for supporting the animals of Kent County, Maryland!