LAKE COUNTY VETERANS MEMORIAL PLAZA
The Lake County Veterans Memorial plaza offers a meaningful and engaging experience that recognizes the sacrifices, courage and valor of all Veterans and their service to our country.
Highlighted by an actual F-111A Aardvark that is prominently displayed in an intimate park-like setting at Waukegan National Airport. This memorial is designed to honor both past and present Veterans and to educate future generations about the enormous costs of freedom. Your purchase of a memorial brick will not only honor your loved one, it will help us complete and maintain this wonderful memorial.
Example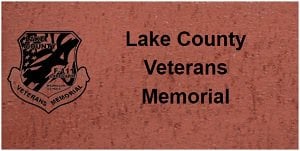 4" x 8" (text only) $250 with Clip art $300