A labyrinth is a single winding path from the outer edge in a circuitous way to the center, used for walking meditation. Labyrinths are used world-wide as a way to quiet the mind, calm anxieties, recover balance in life, enhance creativity and encourage meditation, insight, self-reflection and stress reduction.
The 40-foot Heartstone Labyrinth at the Levi E. Coe Library has been installed thanks to library patron and donor Bernadette Basiel, who oversaw the project. Visitors to the Heartstone Labyrinth are encouraged to 'take a stone or leave a stone'.
A campaign aimed to collect funds for the care and keeping of the labyrinth is underway with a personalized engraved brick fundraiser. The bricks with your messages of love and acknowledgement will be laid as a permanent walkway from the parking lot to the entrance of the Heartstone Labyrinth. Order yours today!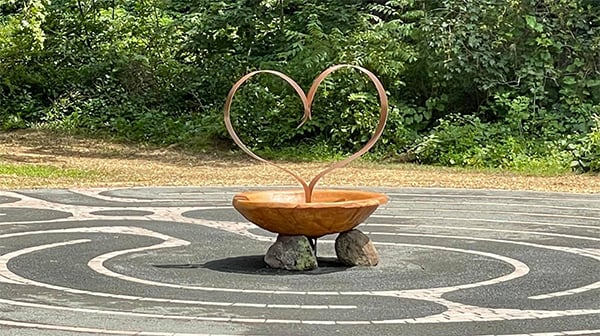 *** Brick colors are randomized***
If you have any questions or concerns about your order, please contact:
Jess Lobner - [email protected]