Lithuanian Hall Association, Inc
100 Tiles for 100 Years
The Baltimore Lithuanian Hall was officially opened in 1921 and is celebrating 100 years in the Baltimore community. In honor of this event, a memorial tile wall is being installed to allow members and friends to forever memorialize their love and support for the Hall by purchasing a customized engraved tile.
There will be 100 tiles available for purchase at $100 per tile. The first line of the tile will note the 100th anniversary leaving you two lines to add your family names.
Thank you for supporting the Lithuanian Hall!
Example of Tile Wall Layout:
Pavadinimas: 100 metų -100 plytelių
Baltimorės Lietuvių Namai oficialiai buvo atidaryti 1921 m. ir šiuo metu švenčia 100 metų jubiliejų. Šio įvykio garbei yra įrenginėjama atminimo plytelių siena, kad Lietuvių Namų nariai ir draugai galėtų įamžinti savo meilę ir paramą salei, įsigydami vardinę išgraviruotą plytelę.
Netrukus bus galima įsigyti 100 plytelių. Kiekvienos plytelės kaina 100 USD. Pirmojoje plytelės eilutėje bus pažymėta 100-metis, paliekant dvi eilutes, kuriose galėsite pridėti savo šeimos vardus.
Ačiū, kad palaikote Lietuvių salę!
The Lithuanian Hall is a 501(c)(3) organization. Your contribution is tax deductible to the extent allowed by law.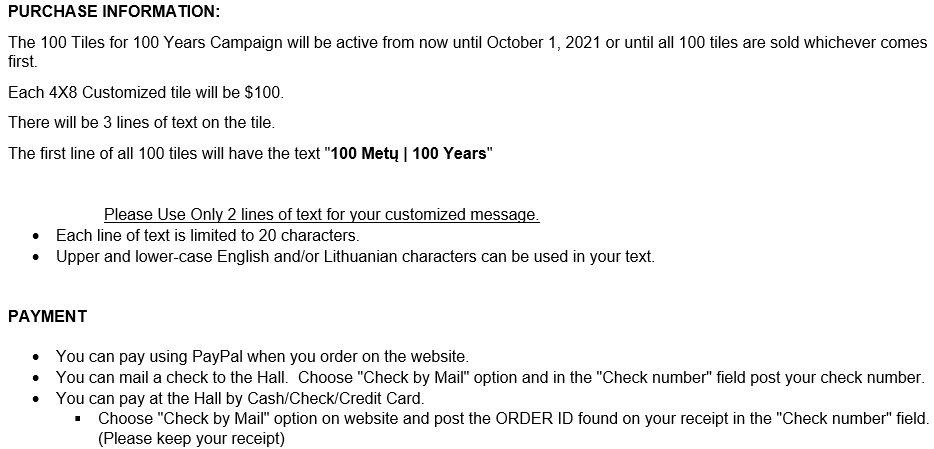 So that all members have an opportunity to purchase one of the 100 tiles, there will initially be a limit of two (2) tiles per individual. If there are tiles still available on Sept 1, we will open sales for additional tile purchases.
A Replica (keepsake) tile can be purchased for an additional $25. This 4X4 mini tile (about the size of a coaster) is for you to have at home as a remembrance of your wall tile at the Hall.