Lynnhaven Masonic Lodge 220

The Lynnhaven Masonic Lodge #220 is currently undertaking a project for the lodge. This initiative is another alternative to securing funds for maintaining our building and to ensure we have funds for future projects and repairs.
Here are some ideas on how to participate:
-Buy a brick for yourself, your family or even your family pet.
-Dedicate a brick in memory of someone.
-Devote a brick to someone who played an important role in your life.
-Honor a friend who has been there when you needed them.
-Give a brick as a gift to someone.
Below are some brick examples.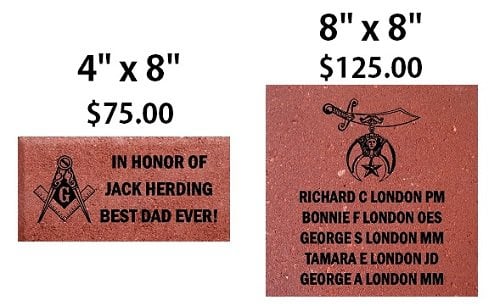 These bricks are of high quality, have great appearance and will last forever. The bricks are available in two sizes and your choice of artwork from our selection can be added to your brick. All proceeds from the brick sales will go directly to improvements for the lodge.
If you have any questions, do not hesitate to contact Bob Rathbun at 757-639-3407