Mars Hill Church Preschool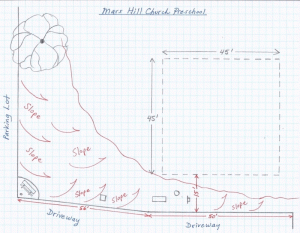 As you may know, Mars Hill Church Preschool is raising money to move and replace the current playgrounds and equipment. Both playgrounds are too far away from the Children's Education Building, and most of the equipment is in very bad condition; both the location and 16 year old equipment create a safety hazard for our children.

The plan is to close both of our current playgrounds and build a new one in the green space behind the church office. The area will be approximately 2,000 square feet and will be completely fenced with both a grassy area and mulched area inside of the fence. The grassy and mulched areas will have a another fence separating them so we can have two different age groups on the playground at one time; one will have the green space to run and play, and the other will have the playground equipment. We are estimating the site work to cost about $5,000 and the new equipment to be about $20,000.
Our first goal is to complete the site work and to start having outdoor time as soon as possible on the new playground; the site work will be completed by August, 2013 at the latest.
We will then start working towards purchasing the new playground equipment; until then, we will temporarily place some of the current equipment that is in good condition on the new playground site.
We hope you will purchase a brick, and help Mars Hill Church Preschool create a safe and inviting community gathering place for all. Your engraved brick will be integrated into the pathway around the playground to be enjoyed by our community for years to come!
Individual/family/small business pricing
Size

4" X 8"

Price without Clip art or Symbol

$50

3 lines/up to 20 spaces each line

Price with Clip art, Symbol

$56

3 lines/ up to 15 spaces each line
Business pricing
Size

8" X 8"

12" X 12"

Price without Clip art or Symbol, logo

$150

6 lines/up to 20 spaces each line

$250

5 lines/up to 20 spaces each line

Price with Clip art or Symbol, logo

$156

8 lines/up to 20 spaces each line

$256

7 lines/up to 20 spaces each line
Engravings on bricks are subject to the discretion of MHCP
Here are some ideas for buying a bricks:
- Buy a family brick
- Honor a special event for your family or child/children: graduation, baptism, marriage, favorite hobby
- Remember a loved one who has passed on
- Say a prayer for someone
- Invite extended family to buy a brick
- Invite your workplace to buy a brick
- Invite a community group to buy a brick