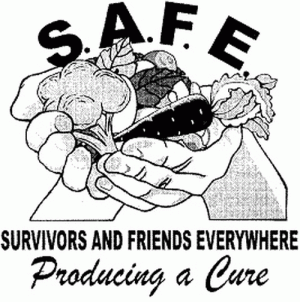 Mateo Pena of Boy Scout Troop 165 has chosen to re-vitalize our OPIS S.A.F.E. Garden as his Eagle Project. It includes increasing the size of our planning beds, removing gravel, lining the beds with pavers, developing a labeling system and introducing engraved stepping stones.
When Mateo is done the Garden will be able to produce more; it will be an educational site as people learn about what is growing and how it helps a body to be healthy; it will be a site to remember those who have passed and those who have survived.

You have the choice of two different bricks.
A square 12" by 12" brick and a round brick that has an engraving surface of an 8" by 8" brick.
Both bricks will start at $100.00.
If you would like to donate more than $100 please make a check out for the amount you wish to give plus the cost of the brick.
Click HERE to download the brochure if you prefer mailing your donation.

This is a monumental project with life changing results.
We are honored that Mateo has chosen our Garden as his Eagle Project.
We want to support him in his efforts.
Please take the time to help Mateo, to honor a loved one, earn a tax deduction and most importantly to help this Garden to help cancer patients.
Each engraved stepping stone purchased comes with a complimentary engraved tile for you to keep.
History of the OPIS S.A.F.E. Garden:
Four Years ago as part of our Survivors and Friends Cancer Support Group we started an initiative to help our patients move from being a victim of a terrible disease to being an active participant in their own recovery.
This initiative is our organic garden, The OPIS S.A.F.E. Garden.
This is truly a "grass roots" initiative in the very best sense. Volunteers have always done all the work. And now Mateo is improving it.
Everything we grow has a role in providing the energy to sustain a person through chemotherapy, to maintain a healthy body, to fight off cancer or even to avoid it.
All produce goes to our cancer patients pre-packaged and ready for their loved ones to prepare it for them.
We started very small, very much like our seedlings.
With Mateo's Eagle Project we can grow.
You would be a very big part of that.
I hope that you will.
Thank you for taking the time to consider this request.
If you have any questions you can contact Therese Richmond at 552-7203 (M-F), it has a confidential voicemail if I am not available and I will call you back.