Melba Bishop Pickleball Association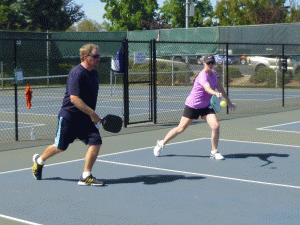 Over the past six years, Melba Bishop has ascended to one of San Diego County's favorite Pickleball venues. With the help of many volunteers, and the support of the City of Oceanside, we have turned two poorly maintained tennis courts into the eight permanent Pickleball courts that are used today. Our recent social area addition will help improve the complete Pickleball experience, and has created a secure area for tournament set-up.
We are promoting the sale of "donor bricks" to help facilitate our continued growth and provide a superior Pickleball venue; whether it is social play or tournament competition, this project will provide a fun place to talk with friends and brag about winning shots! Please consider the purchase of one, or more, of these personalized pavers.
This is a chance to leave a lasting impression on a brick or tile paver to be displayed in the center of the area (for those who respond the quickest) and around the perimeter. The pavers will be engraved with the wording (and clipart) of your choice. (You may download your own artwork on the website.) They are made of concrete for durability and both the brick and quality engraving are guaranteed not to crack, chip, fade or peel for the lifetime of the brick.
| | | |
| --- | --- | --- |
| 4" x 8" Red or Tan Brick | Text Only | $35.00 |
| 4" x 8" Red or Tan Brick | Text with Artwork | $45.00 |
| 8" x 8" Gray or Beige Brick | Text Only | $50.00 |
| 8" x 8" Gray or Beige Brick | Text with Artwork | $60.00 |

Besides a personal paver, consider dedicating a tile to someone who has made a positive impact in your life. You can also purchase a 4"x4" replica tile of your Pickleball Paver to display at your home or office.
This truly is a unique opportunity to leave a bit of yourself for posterity, while helping with a good cause. There is a limited number to be sold…so please order today!
***All paver orders must be paid in full or your order will not be processed for engraving. ***
Forms are also available at the courts during play or you may contact Jenae Alms for a printed brochure and order form. Please help make our campaign a huge success. Thank you for your support.