West Volusia Moose Riders Herd 2538
Brick by brick, we are "Paving" the way!
Help the West Volusia Moose Riders improve our lodge.
The West Volusia Moose Riders Herd #2538 is currently undertaking a beautification project for the front of our lodge. We are creating a brickyard to honor the members of the Moose and to beautify the lodge's flag pole area.
What better way to immortalize our members, our supporters and others who have contributed to making West Volusia Moose Lodge #2538 the place it is today. Here are some ideas on how to participate:
Ø Buy a brick for yourself, your family or even your family pet.
Ø Dedicate a brick in memory of someone.
Ø Devote a brick to someone who played an important role in your life.
Ø Honor a friend who has been there when you needed them.
Ø Give a brick as a gift to someone.
Ø Be creative! It's your brick!


These bricks are of high quality, have great appearance and will last forever.
The bricks are available in two sizes and for a small fee,
your choice of artwork can be added to your brick.
All proceeds from the brick sales will go directly to improvements for the lodge.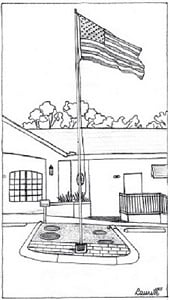 Brick Size

Cost

Artwork

If paying by Credit Card or PayPal

4x8

$50.00

3 lines

$10.00

Add $2.00 This is a PayPal charge

8x8

$100.00

6 lines

$10.00

Add $3.50 This is a PayPal charge
Each line up to 20 spaces - Space/line count may vary with added artwork.

Make checks payable to West Volusia Moose Lodge #2538.

The important thing is to help support our efforts.
A Moose Lodge cannot exist without members who put their hearts and hard work into
making this a better lodge for all members to relax and enjoy.
If you have any questions about our brick campaign, feel free to drop an email to [email protected]