Murray Pickleball Association
Founded in 2022, the Murray Pickleball Association (MPA) was formed to promote the fastest growing sport in the country. Playing pickleball is not only for recreational purposes but also provides social experiences for players young and old. The desire to have our own facility has been a dream for the MPA and our members as we are currently borrowing space at 2 local churches and the basketball courts at Chestnut Park. Our facility will be first class and will attract players from Western Kentucky and other states. We feel that these courts will make Murray a Pickleball destination, providing additional economic growth opportunities for Murray and Calloway County. This will boost our livability score and make Murray a nicer place to live and visit. The MPA is fundraising to build a beautiful facility that will contain 9 courts total (a center court + 2 quad courts) and a Welcome Center within Chestnut Park on the corner of 8th and Payne Streets. The MPA anticipates breaking ground in April 2024 with completion by August 2024.
We invite your assistance in our fundraising efforts through the purchase of an engraved brick. The MPA will build a brick patio leading into the Welcome Center. We welcome individual donors, organizations and businesses to be recognized for their support while creating a legacy for the construction of this community facility. Bricks can be engraved with a commemorative message, memorial, tribute, acknowledgement, etc. Purchases can be made with a credit card/debit card or by mailing a check after filling out the form click CONTINUE.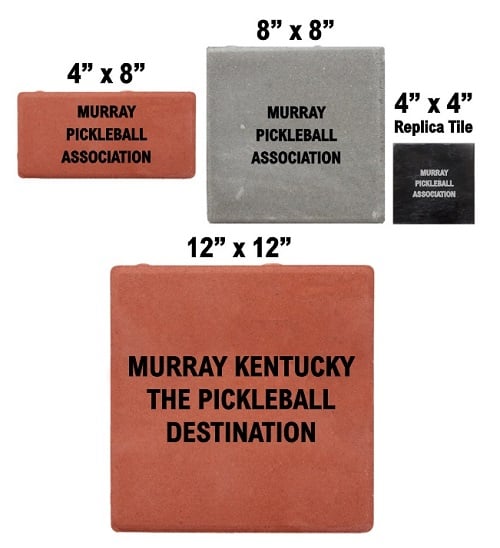 For any questions, please contact [email protected]