Nashua North Athletic Booster Club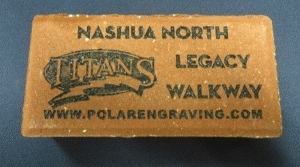 Leave Your Mark!




Honor your student, team, business or organization forever in the Nashua High School North Legacy Walkway. The brick walkway will be constructed in front of the gymnasium and can include a brick specifically designed to commemorate your class, team, club, business or organization. By purchasing these everlasting mementos you will help provide scholarships for North students as well as provide for any "extra" equipment needs our teams may have.
Your custom engraved brick paver will be permanently displayed in a beautiful walkway. The laser engraved bricks are guaranteed for life, with permanent paint that never wears away.
Choose from a large [12" x 12"], medium [8" x 8"] or small [4" x 8"] brick honoring your favorite people, event or business. Bricks come in both red and grey.
Bricks may also be customized to include graphic images from a catalog of clip art including your favorite Titan logos!
Leave Your Legacy Etched in Stone
Here are some ideas for buying a bricks:
*Get a brick for your family, team or class!
*Honor a favorite teacher or coach
*Honor your favorite Titan player, cheerleader or band member
*Remember a loved one who has passed on
*Show your business supports the Titans!

If you would like to have a 4" by 4" Replica Tile with the same inscription as your brick, you can purchase one for $10.00 under 'Replica Tile'.
Price List:
| | | |
| --- | --- | --- |
| 4" x 8" Brick | No logo | $50.00 |
| 4" x 8" Brick | With logo | $60.00 |
| 8" x 8" Brick | No logo | $100.00 |
| 8" x 8" Brick | With logo | $110.00 |
| 12" x 12" Brick | No logo | $225.00 |
| 12" x 12" Brick | With logo | $235.00 |
Thank you for your support!