North Brunswick Athletic Booster Club

The Scorpion Brick Paver Campaign
The Scorpion Commemorative Brick Paver Patio, located in front of the new home-bleacher concession stand, to be known as "Alumni Plaza," will be the crowning touch to the newly renovated Garry Bishop Stadium at North Brunswick High School. Commencing with the 2019-2020 school year, the Scorpion Brick Paver Campaign allows current and former students, staff, alumni, parents, family members, and community members to sponsor and engrave the bricks used in the patio with a personalized message and/or logo of the sponsor's choice.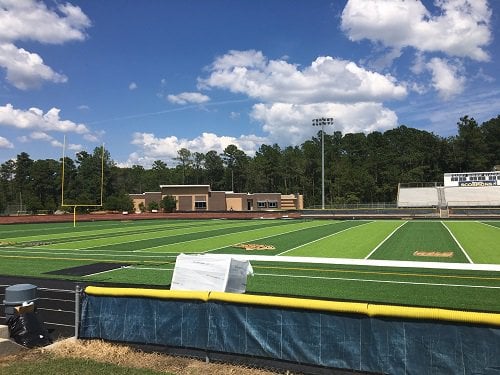 The Commemorative Patio will include designated spaces to recognize each graduating class, state championships, and veterans. All other space is available for individual sponsorship. Suggestions for individual sponsorship include, but are not limited to, honoring past/current students, staff, coaches, memorials, academic and athletic accomplishments, and community partners. All proceeds from the Brick Paver Campaign will support the Scorpion Athletic Booster Club in its mission to fund and enhance athletics at North Brunswick High School.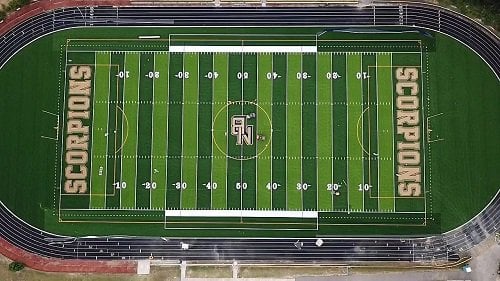 Patio space is limited, so purchase your bricks today!
IN HONOR OF THE CLASS OF 2023 ,we are offering 23% OFF bricks between now and graduation
Brick Pavers
Patio bricks are available in the following sizes:
| | | | |
| --- | --- | --- | --- |
| Brick Size | Content | # of Characters | Cost |
| 4"x8" | Engraving only | Up to 20 spaces, 3 lines | $75 $57 |
| 4"x8" | Engraving with clip art/ logo* | Up to 15 spaces, 3 lines | $85 $65 |
| 8"x8" | Engraving only | Up to 20 spaces, 6 lines | $150 $115 |
| 8"x8" | Engraving with clip art/ logo* | Up to 20 spaces, 5 lines | $160 $123 |
* Logos must be selected from the approved list found on side column
Bricks are tan in color and will be engraved with a uniform font. Please see samples below: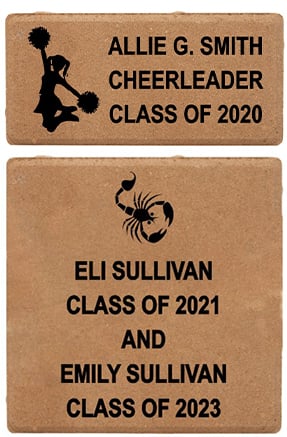 Bricks are made of concrete, and both the brick and the engraving are guaranteed not to crack, chip, fade or peel for the lifetime of the brick. Any damaged brick will be replaced at no cost to the sponsor.
The Booster Club Board of Directors will approve all engraved messages to ensure they are in keeping with the spirit of the Commemorative Patio.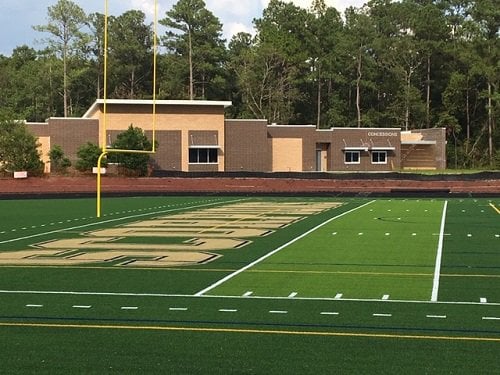 Sponsorship
Anyone affiliated with North Brunswick High School, the former Leland and Lincoln Schools, and/or the surrounding community is eligible to sponsor a brick paver. Scorpion Bricks are available on a first come, first served basis, and
space is limited, so ACT NOW!
Order your Scorpion Brick Paver today and LEAVE YOUR LEGACY.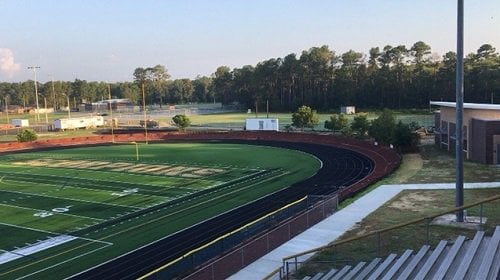 Thank you for your support
.
***All paver orders must be paid in full or your order will not be processed for engraving. ***