Oakview Elementary School PTA


We are EXCITED to announce PROJECT PLAY!
This project is centered around the following plans:
• Install a new major playground structure
• Incorporate new equipment into the kindergarten playground
• Create a brick walkway at main school entrance
• Improve landscaping where necessary
The Oakview PTA's Goal is to provide $50,000 to support the
improvements and new playground. This includes funding from
individual families as well as corporate sponsorships.
To spearhead the campaign, we are selling personalized bricks in two
sizes to line the new walkway at the main school entrance. This is a
chance to help build a better Oakview for the future and leave your
lasting mark at its doorstep.
Thank you for your support!
The Projected installation date is the Spring of 2018

4" x 8" Example - Text Only" and "8" x 8" Example with Clipart.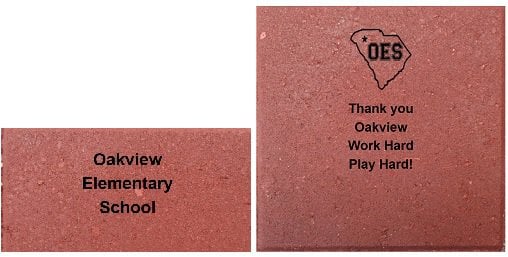 Have 2 Sizes of Bricks are Available! Here are Examples of Text Only and Text with Clipart! You can put Clipart on either size brick.
4"x8" bricks allow for 3 lines of text, 20 characters per line. 8"x8" bricks allow for 6 lines of text, 20 characters per line.