The Rev. Pearly Brown Music Park will be a place for our community to gather, a venue for an artist to shine, and a park that remains true to its natural beauty. The park will be open daily from dawn until dusk - and will feature many amenities including:
· a large amphitheater and stage,
· one-of-a-kind entrance plaza celebrating Rev Pearly Brown and with a design inspired by his Resonator guitar.
· an event hall available for parties and small conventions
· dog park.
· children's playground
· Sumter County Hall of Fame Museum
· large lawn for relaxing and passive play
Many of the existing structures will be repurposed and used for concessions, VIP lounges, restrooms, back of house offices and large playhouses. We envision an outdoor space adjacent to our thriving downtown which will offer something special for everyone.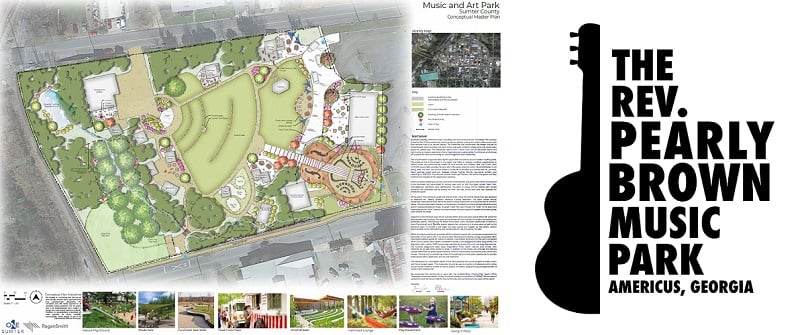 Help make this project successful by purchasing a portion of a guitar string or a guitar fret.

Engrave the brick with your name or your organization's name - or honor or remember someone who would appreciate this project!
Thank you in advance for your support!
For any information, please contact: [email protected]