Osawatomie Rotary Community Fund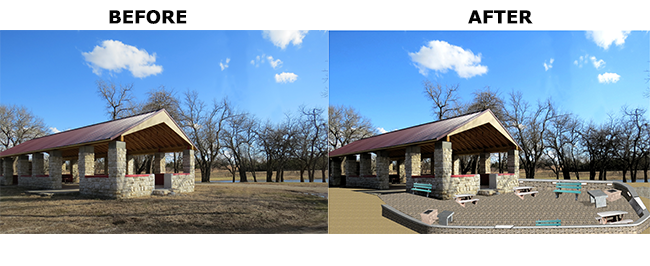 Our organization was founded in 2011 with the goal of better improving our community. We use the T.E.A.M. concept (Together Everyone Accomplishes More) to bring the community together to help achieve the goal. Our current project is to improve a portion of our City Lake. This project would enable families to fish, boat, picnic, have gatherings, swim, and play. It is our goal that once this renovation project is completed our children and families will have a place where they can reconnect and make memories, therefore, improving the quality of life for everyone. Due to the size and cost of the overall project we have broken it up into manageable sections or phases. The first phase was to completely redo the roof on the Shelter House. The construction of the Shelter House was originally a WPA project done in the 1940's. The structure and the roof were in dire need of some maintenance. Last fall we were finally able to reconstruct the new roof. We added open trusses and installed a standing seam metal roof. In addition to the roof we had the stone tuck pointed, the graffiti cleaned, and the stone sealed. Later this year we plan on painting the new beams and eve that were installed last fall.
No project is without its complications.The two chimneys and fireplaces that once were at each end of the structure had to be either permanently sealed or removed. Ultimately one side was permanently sealed and the other was removed.This left one side of the structure very open. We decided to add a paver patio so that guests can picnic, sit by the campfire, and have more room to spread out and enjoy the company of family and friends.
This is our second phase. It is estimated that the patio area will cost approximately $20-25K.The pavers sold will be used in this area and if any additional money is raised from the selling of the pavers will go towards our third phase of the project which is a playground for children 2-12 years old.
For more information about the project and to receive updates please visit us on Facebook at Osawatomie Rotary City Lake Project and "LIKE" our page.