Our Lady of The Blue Ridge Catholic Church
Memory Garden Memorials. Each beautifully personalized red brick dedicates a special place in the garden to honor and remember those we cherish. These timeless memorials are engraved with the names of family members or friends, along with a symbol that reminds us of Our Lord's promise of love and everlasting life.
Our memory garden will be located on the left side of the church lawn, just past the sidewalk ramp. Each memorial brick will be laid to fit into an overall, mosaic-type design that will change and grow as each brick is laid. This aesthetically-pleasing design will complement and enhance the existing church grounds, with easy access and viewing.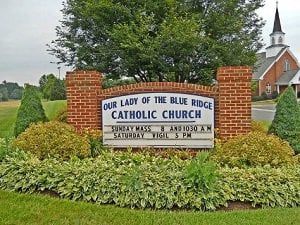 A parish member can purchase a memorial brick for any person(s) they wish to remember, living or deceased. The memorialized individual, couple, or family does not have to be a member of Our Lady of the Blue Ridge. An example would be for family members who have participated in special events at our church but are not members or to memorialize a child's birth, baptism or marriage in the church. What a wonderful way to pay tribute to that special person in your life.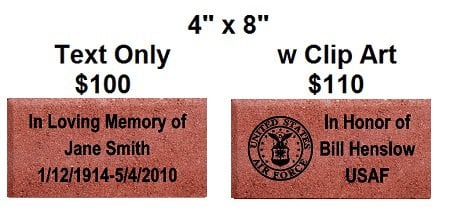 The Memory garden will be located in the left side yard as you face the entrance of the church. We have an initial design for 400 bricks and it will incorporate the new statue being installed. The bricks will be installed at ground level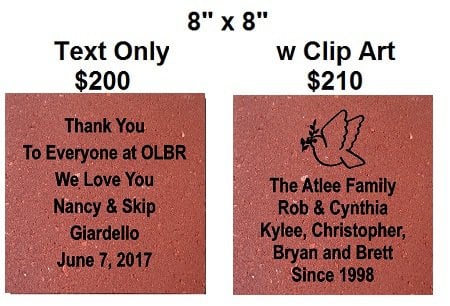 If you would like to have a keepsake, you can add a 4" x 4" Replica Tile to your order.
It would be a copy of your text with artwork on a black granite tile. Example below.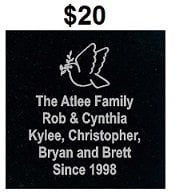 This page will provide costs, clipart, even a virtual brick to view your personalized brick and order forms to get you involved.
For questions, please contact the Church at [email protected]