The Pikes Peak Athletics Foundation has the mission to reduce financial barriers that may inhibit those of all skill levels from achieving success as swimmers. The foundation has four allocation categories:
1. COMMUNITY OUTREACH FUND:
—Pool safety and introductory swim classes for children from the community with limited access to swimming. This may be in partnership with programming from local agencies serving the needs of disable, under-privileged, and otherwise marginalized youth.
2. TRAINING SCHOLARSHIP FUND:
—Training scholarships awarded to swimmers from the community (not already affiliated with PPA) who demonstrate a talent and passion for swimming, but cannot afford to train with PPA. (Application Required)
—Training scholarships awarded to swimmers who already swim with PPA, whose training is in jeopardy due to financial constraints. (Application Required)
—One annual scholarship to attend a PPA training camp awarded to a swimmer who demonstrates talent and passion for pursuing their swimming goals. (Available to PPA and non-PPA swimmers. Application Required)
—Scholarships for disabled youth with a desire to train for potential competition as Paralympic and/or Special Olympic swimmers. (Application Required)
3. COMPETITION TRAVEL FUND:
—Travel expense and meet entry fee assistance to PPA swimmers who qualify to compete at high level competitions, but cannot afford the associated costs to attend. (Application Required)
4. GENERAL/DISCRETIONARY FUND:
—Non-designated funds will be held in this fund and allocated to the three other funds at the discretion of the foundation's Board of Directors.
*Please indicate on your order form under "comments" which number (1-4) of the fund categories (listed above) you would like your donation to be applied to.

**The PPA Foundation's application for 501(c)3 status is pending. IF APPROVED, donations made after 11/15/2018 will be tax-deductible.
The PPA Foundation tile fundraiser is an opportunity for our supporters to become a permanent part of the PPA Training Center by purchasing a custom engraved wall tile that will adorn the "Patron Wall of Fame" (located in the main pool/deck area). We are excited to offer this opportunity for our patrons to have their love and support of swimming be recognized for many generations to come.
Patrons can chose to custom design their tile to include name, text, clip art images and/or business name (business logos are no longer available). Patrons may want to adorn their tiles with their favorite motivational quote, their child's artwork, or tribute to loved ones and/or pets. (Content subject to approval by PPA.). Whatever you choose to say on your tile, your contribution in support of swimming and the PPA Foundation will leave an ever-lasting memory on the walls of this amazing facility!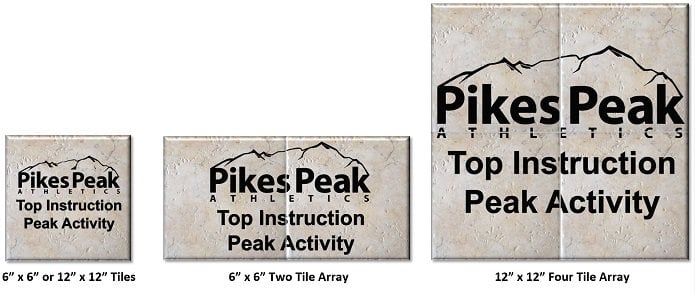 To order a 6"x 6" Tile or 12" x 12" Tile Fill out order form below.

For any questions, or to order a tile array please contact [email protected]