Poor Clares of Perpetual Adoration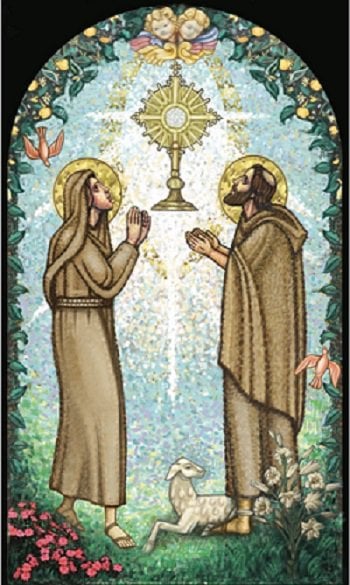 Please help us to create Rosary Walk on the grounds of Sancta Clara Monastery of the Poor Clares of Perpetual Adoration in Canton, OH!
The Rosary Walk will connect our parking lot to the pond and will provide a place for meditation and peace where all 20 mysteries of the Rosary can be prayed in a place of quiet away from the busy world. Benches will be on either side and at the end of the walkway there will be a mosaic of St. Francis and St. Clare. See the mosaic sketch to get a glimpse of what it will look like when completed.
Our goal is to raise $25,000 to cover the total cost of the walkway, benches, and mosaic. Each brick costs $100 and will go towards this goal.
Each brick can have up to 3 lines with up to 20 characters (including spaces) on
each line.
If you have any questions, you can contact Caroline Katigbak @
[email protected] or 330-704-8932.