Poulsbo Sons of Norway Lodge 44


Would you like to recognize someone with a onetime donation that will last a Lifetime?
Help the Lodge cover the Trolls' Den Lower Deck Wall with Tribute Tiles.
The present structure of our Sons of Norway Lodge is celebrating its 50th Anniversary in 2022. In the past, a small army of volunteers maintained our building and kept it functioning so that our members could enjoy all those many years of good times. Over the last fifty years, there have been hundreds of Parties, Cultural Events, Trolls' Den late nights and Viking Bonfires.
We are coming to you for help.
Age is beginning to creep into every corner of the building. The physical condition of the Lodge has reached a point that can no longer be managed with tape and putty. We're talking about big items like a new Roof, a Dishwasher for the bar and the Walk-in Freezer. These items have gone past their normal lifespans and will require replacement within the next few years. All funds raised will be used only for capital improvements.
Purchase an engraved 4"x 8" or 8"x 8"-inch tile in honor of your family, the memory of a loved one, or to celebrate special Life events, your company or organization. The laser engraved tiles are guaranteed for life and are manufactured with a permanent paint that never fades away.
You can personalize your tile by uploading artwork that you have either found on the Internet or have created yourself. You can upload your jpeg or PDF of individual art after selecting "Yes" on the Clip art line. Or you can create your tile with a selection from the Website's Clip Art Library provided below.

Each sponsored tile will be permanently installed on the concrete wall of the Trolls' Den deck.
The gray 8"x 8" tiles will line the top edge of the deck, while the red 4"x 8" tiles will fill in the recessed area below.
No tiles will be placed on the foot of the wall.
Quantities are limited to 65 of the 8"x 8" tiles and 555 of the 4"x 8" tiles.
With purchase of a Tribute Tile, you may also order a 4"x 4" Replica Tile to have as a keepsake for $15 extra.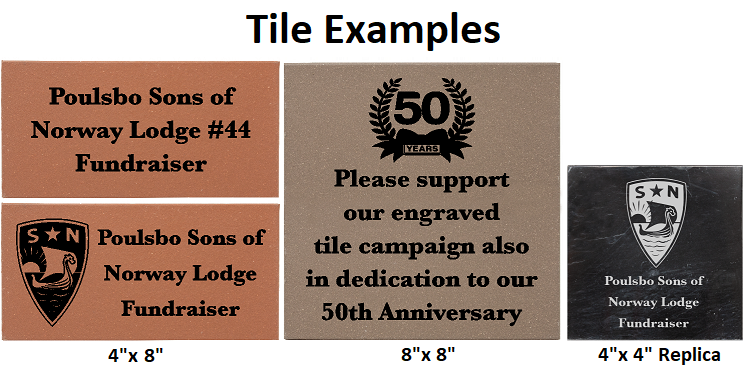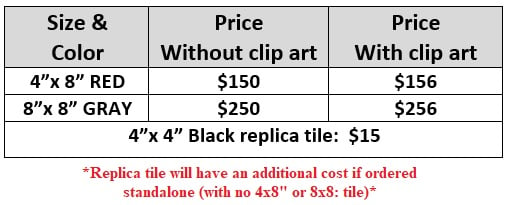 For more information or ordering assistance, please contact:
Helen Wytko at: [email protected]
Scroll down to view Clip Art options: