The Purchase Community House is celebrating 100 years!
Leave your mark on the Front Porch…It's better than carving initials in the Hollow Tree!
The building everyone knows as the PCH was built in 1917 and officially opened on July 19, 1917.
To celebrate this birthday, we are offering an opportunity to become a part of the legacy of the Purchase Community House.
This is a once in a lifetime opportunity to participate in this distinctive community project.
The Centennial brick pavers will be on sale from now until March 31, 2018. Installation is slated for the beginning of April, 2018 with the unveiling in May, 2018. Purchase Community, Inc. is a not-for-profit 501(c)(3) organization, so your brick purchase is
100% tax deductible.
The PCH has touched hearts and shaped both young and old for 100 years!
There is no other place like the PCH! Create a tribute to the memories you have made at the Purchase Community House.
3 different size brick/pavers to choose from.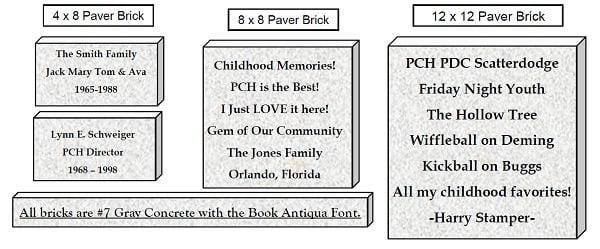 To pay by credit card, please select the "PayPal or Credit Card" Option on the next screen.
Keep in mind that you do not need to have or create a PayPal account to use PayPal for this transaction.