The City of Revere Veteran Services is inviting you to recognize the distinguished service of a veteran that is dear to your heart.
We are looking to complete the walkway at the Charles J McMackin Veterans Memorial Park with bricks dedicated to a special veteran you would like remembered.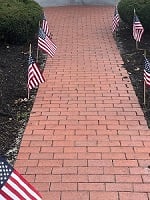 The proceeds will go to helping veterans of Revere with emergency support. We will also be donating to each Veterans Post of Revere. All Sales will be finished by Friday, April 28th, 2023.
We will be aiming to have all bricks installed before Memorial Day, May 31st, 2023
Any questions or concerns can be directed to the City of Revere Veteran Service office at 781-286-8119.
Marc Silvestri, Director of Veteran Services